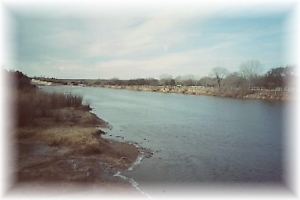 The Great Salt Plains area abounds with natural wonders. With the nearly 400 species of birds at the Great Salt Plains Lake and National Wildlife Refuge, there are plenty of winged creatures to observe.
Rock hounds can dig for the hour glass shaped Selenite Crystal found only at the Crystal area on the Salt Plains Refuge.
Fish for catfish, saugeye or other finned creatures at the Great Salt Plains Lake or visit the Byron state Fish Hatchery and Watchable Wildlife Area to see some of the fingerlings that stock Oklahoma's Lakes.
The area is a hunters paradise. quail, pheasant, turkey, goose, deer and other wildlife are plentiful throughout the area.
Gardeners can stroll the gardens of the Heritage Manor Bed and Breakfast, near Aline, or take the Cherokee Water Gardens Tour.
Learn the history of the area at the
Alfalfa County
Museum in Cherokee, and see how early settlers lived in the only remaining sod house in Oklahoma built by a homesteader in Aline.
During the 1893 Land Run into the Cherokee Outlet, the present county at that time was among six counties designated by the alphabet letters K through Q. County M became Woods County. Then, at the 1907 Statehood Convention, Woods County was divided into three counties, which were given the names of Woods, Major, and Alfalfa.
Alfalfa County
was named after Alfalfa Bill Murray, president of the Constitutional Convention and later Governor of the state.
Explore Alfalfa County
Explore Alfalfa County