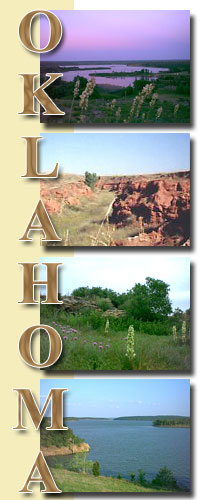 In 1887, Cimarron Territory was formed to provide law and order in what had become to be known as No Man's Land. This new territory encompassed the present three counties of the panhandle, and the entire area was designated as
Beaver County
, with Beaver City as the county seat. It wasn't until 1906 that a State Constitutional Convention decided to split old
Beaver County
into three equal area counties in 1907.
Families settled from other countries such as Germany, Bavaria, Bohemia, as well as from states such as Iowa, Missouri, Illinois, built the area into thriving prosperous communities. They built churches and schools, organized towns and post offices, and provided a stable life in this harsh new land. These same folk survived the Dust Bowl and continued in the tradition of being good neighbors.
The sand dunes in
Beaver County
make a marked contrast to some of the surrounding areas. The large system of sand dunes border the north bank of the Beaver River, also called the North Canadian. Over 10,000-50,000 years ago, during the Great Ice Age, heavy rainfall and snow-melt carried sand, gravel, silt and clay down Oklahoma's river systems from their headwaters in the rocky Mountains region. As these materials were deposited along the river's flood plain, wind would gradually move the lightweight sand particles away from the river, forming sand bars and dunes. Because Oklahoma's prevailing wind is from the south, most of these sand dunes were formed on the north bank of these rivers. When these sand dunes lose their blanket of vegetation, they become "active" and begin to slowly move as they are propelled by the force of the wind.
Explore Beaver County
Explore Beaver County