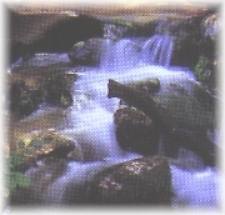 Blaine County
sits on the north flank of the Anadarko Basin, the deepest known basin in the continental United States and a great reservoir of petroleum and natural gas. In Roman Nose State Park elevations can reach 1,500 feet, providing spectacular views of the surrounding mesas.
The dramatic scenery of the area were formed by erosion of gypsum and shale laid down over 200 million years ago. Gypsum is the soft, white rock deposited when this area was a large inland sea, similar to the Dead Sea in Israel. Shale is the reddish-brown soft rock formed from the mud of river beds which crossed this area when the inland sea dried up.
Another natural wonder: fresh water springs (the largest collection in north-western Oklahoma) that stay a chilly 56 to 60 degrees, year round. The Spring of Everlasting Waters gurgles forth from subterranean rivers at the rate of 600 gallons per minute, feeding a recreational paradise of water and wildlife.
Blaine County
is the site of the first gypsum mill in Oklahoma Territory, the Ruby Stucco Mill, Southard, located in the north central part of the county, is the site of one of the purest gypsum deposits in the United States. The U.S. Gypsum Company is the largest industrial plant in the county.
The International Association of Rattlesnake Hunters has headquarters in Okeene, which is also the site of its Jaycees Annual Rattlesnake Hunt.
The Canton Lake Walleye Pike Rodeo and Fishing Derby occurs annually at Canton Lake, Oklahoma's leading fisherman's paradise. The Walleye Rodeo is Oklahoma's oldest and largest fishing tournament.
Roman Nose State Park is located seven miles north of Watonga, the county seat and site of the Watonga Cheese Factory and the annual Watonga Cheese Festival. Watonga, was named for Watangaa, or Black Coyote, an Arapahoe leader.
Originally designated as "C" County in 1890, Blaine was adopted as the county name in November 1892, in honor of James G. Blaine, U.S. Senator, House Speaker, and Republican presidential candidate in 1884.
Explore Blaine County
Explore Blaine County