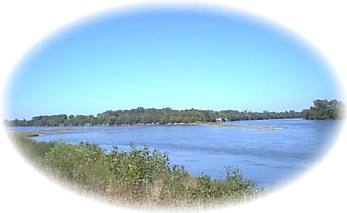 Nestled halfway between Omaha and Lincoln and the grassy banks of two mighty and historic rivers,
Cass County
is a popular daytrip destination for families seeking serenity and adventure away from the city. Discover for yourself why outdoor lovers, history buffs, and specialty shoppers are visiting
Cass County
like never before.
Just a few miles north of
Plattsmouth
, the historic Platte River that guided and nourished thousands of pioneers along the overland trails westward meets the mighty Missouri flowing southward. The meeting of these two rivers is a sight of nostalgic recounting that is sure to stir your respect for nature and the visions of those who found this amiable westward route that broke away from the depths of the big river.
Cass County
is one of the earliest settled counties in Nebraska. It was named in honor of General Lewis Cass of Michigan ( 1782-1866), an American statesman and patriot, who took an active part in the fight over the Kansas-Nebraska bill. Cass was the Democratic nominee for President in 1848.
Historical museums in several cities throughout
Cass County
give a full view of the history of the area. The Bess Streeter Aldrich Museum in
Elmwood
is housed in the "Elms," Aldrich's home, with her personal desk from which great literary works such as A Lantern in Her Hands came into being.
Weeping Water
presents two museums, The Heritage House Museum and Memory Lane Museum, and the
Greenwood
Depot Museum is a historical reminder of the past in the only depot in
Cass County
that has been preserved. The
Cass County
Historical Museum is located in
Plattsmouth
, and the Murdock Historical Museum reveals the history of the community of
Murdock
.
Outdoor fun and recreation abound along the Platte River bordering the northern edge of the county. Mahoney State Park, Platte River State Park, and the Louisville State Lakes provide water activities, camping, and recreation while the Wildlife Safari near
Lousiville
allows you to drive through North American wildlife and see animals and prairies closer than ever.
Explore Cass County
Explore Cass County