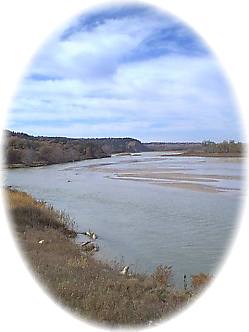 The Upper Missouri's crystal-clear water is one of Nebraska's little-known treasures. A float trip follows the same watery trail
traveled by our country's most famous historic
explorers, including Lewis and Clark, Chouteau
and Audubon. As you paddle and float down
the serene Upper Missouri, you can imagine
the sights and sounds that might have greeted
the courageous souls who ventured into this
wild land, the home of Standing Bear and the
Ponca Tribe before the Trail of Tears. Your
guide will bring those times to life with stories
of real and imaginary expeditions into the heart
of what still is a region of great natural beauty.

Nestled in the golden, chalkstone-lined valley of the Missouri River, Knox County abounds with untempered bluffs, valleys, and wooded plains abundant with wildlife and opportunities for outdoor recreation. The portion of the Missouri River located at Knox County had been formed into the Lewis and Clark Lake by the construction of Gavins Point Dam, a major hydroelectric power source regulating six main stem dams and reservoirs on the Upper Missouri River.
Niobrara State Park, just 2 miles west of the community of Niobrara, is situated at the confluence of the Niobrara River and the Missouri River. It offers float trips, camping, modern cabins, hiking, and wildlife observation. Throughout the county remain several small communities with restored historical buildings and interesting sites that make for a worthwhile day trip.
The Lewis and Clark Visitor Center now stands on historic Calumet Bluff which is where Lewis and Clark had their first meeting with the Yankton Sioux tribe on their journey up the Missouri River. Exhibits on this exploration and other historical information is available throughout the year.
Explore Cedar County
Explore Cedar County