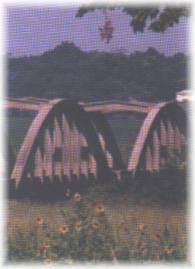 LASR -
Chautauqua County
, KansasThe Old West meets the New West in historic
Chautauqua County
. Once the site of the largest cattle shipping point in the world,
Chautauqua County
is now one of the Midwest's most delightful tourist sites.
The area was once a part of the Lousiana Purchase and sold to the United States in 1803. The Osage Indians occupied this area with its vast native grasslands, game enriched woodlands, and fertile riverbottoms.
Texas longhorned cattle began arriving in the county in the late 1800s by the hundred thousands. Most were sent by rail to the town of Elgin, located in southern
Chautauqua County
, pastured on grass, and then shipped to Kansas City for marketing.
Throughout the county, bits of history can be viewed from a network of scenic back roads. Beautiful countryside vistas, history-filled museums, historic buildings and settings and restful parks can be appreciated throughout the year.
Explore Chautauqua County
Explore Chautauqua County