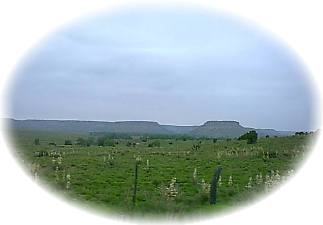 Friendly
Cimarron County
offers treasures from both past and present. See the ruts of the historic Santa Fe Trail, original dinosaur tracks - REALLY!, and see the highest point in Oklahoma atop magnificent Black Mesa where you'll find the Old Maid and the Wedding Party, among other rock formations. Fish at Lake Carl Etling any time of year, and see Camp Billy Joe--a Christian youth camp near Kenton.
In April, enjoy events ranging from our Trout Derby to an Easter pageant. There's Santa Fe Trail Daze and Art Show the first weekend in June, the Cimarron County Fair in September, a Crafts Show in October, and much more. And don't forget the fast-growing Cimarron Heritage Center--it showcases our area's rich past.
Fun Facts:
Of the 3,070 counties in the United States, Cimarron is the only one that touches five states.
More Indian artifacts have been found in Cimarron County than in any other in the country.
Boise City was bombed during WW II.
Kenton is the only town in the state on Mountain Time.


Explore Cimarron County
Explore Cimarron County