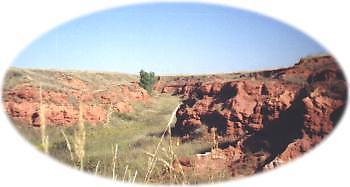 Agricultural, including ranching and farming, is a basic economic source in
Clark County
. The county has 582,000 acres of agricultural land with 394,000 acres in pasture range, the fourth largest number of acres in the state of Kansas. There are 260 farms in
Clark County
. Major crops include wheat, grain and forage sorghum along with alfalfa and some oats and barley. Most crops are produced by dry land farming, but over 4,000 acres are irrigated.
The cattle industry is the major source of employment in
Clark County
. Although hogs, sheep, horses and chickens are raised, the business related to the ranches, farms, feedlots, breeders, grain, feed and seed processors have great economic impact on the area.
Oil was first discovered in 1914 in the Bluff Creek area. Oil and gas production continues to be an ongoing support for the economy. Natural Gas Pipeline Company of America has offices near Ashland.
Explore Clark County
Explore Clark County