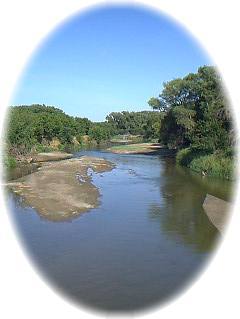 Located in the south central part of the state, Clay County supplied travelers on the Oregon
and Overland trails in the 1850-60s a refuge along the Little Blue River. Just northeast
of the present town of Deweese, was a Pony
Express station in 1860-61. The buildings, destroyed in
1864 during an effort by Indians to reaffirm their claim to the
region, were rebuilt and later sold to Wells Fargo & Co., but the station was
discontinued in 1874.
A large wave of settlers, recruited directly from Czechoslovakia by the railroad
company, arrived in the mid 1880s. When the Burlington & Missouri River Railroad
crossed to the south side of the Little Blue River in 1885, a town site was platted. Named
for the railroad attorney, J.W. Deweese, it soon became a center of activities.
By the early 1900s, nearly 500 refugee
families from the Volga region of Russia arrived via the
railroad, making them the largest ethnic group in Clay
County. The value of these dedicated, hard- working, and
conscientious people greatly contributed to the growth of Clay County.
Promises by the railroad to build a station in the newly organized town of Sutton in northeast Clay County, led the few businesses established there to anticipate being the hub of the county. But the railroad passed them by, and from that point a heated county seat fight ensued with Clay Center, the town located in the Center of Clay County. Clay Center became the county seat after an election because it was a more convenient location to conduct business.
Today, Clay County communities are working together toward the growth of Clay County as an economic, agricultural, and recreational center.
Explore Clay County
Explore Clay County