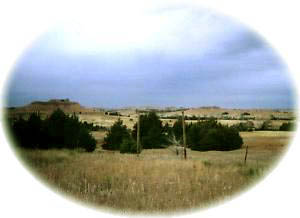 Named for the Indian tribe of the same name,
Comanche County
's development parallels that of other counties in the region - bands of Indians and migrating herds of buffalo, followed by the arrival of cattlemen, settlers, and the railroad.
Grasses on
Comanche County
's scenic Gyp Hills and High Plains now fatten upwards of 40,000 head of beef cattle each year. A combination of dryland and irrigated acreage producing wheat, corn, sorghum and alfalfa rounds out the county's diversified agricultural economy. Beneath the landscape are reserves of oil and gas, another segment of the local economy. These underground regions also hold over 235 known caves - the most in any Kansas county. History hasn't been forgotten in
Comanche County
. In the early 1880s the Comanche Cattle Pool, the largest cattle operation in the state's history, grazed over 80,000 head of livestock across the area. These stories are told in the county museum at Coldwater. Nationally-known muralist and "crop artist Stan Herd has created an outdoor mural for the museum, plus other murals in Wilmore and his hometown of Protection. Lake Coldwater offers fishing, boating, swimming, camping, and waterskiing. Explorers can experience the heritage of the Comanche Pool and historic Evansville during the annual benefit trail ride on the Merrill Ranch in the southeast corner of the county.
Explore Comanche County
Explore Comanche County