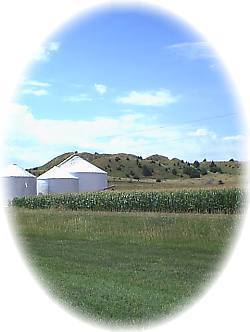 Dawson County
is located on what was the first transcontinental highway--the overland route to the west. The county was formed in 1871, just four years after the state joined the Union, March 1, 1867, and has played a major part in the development of Central Nebraska. The story of
Dawson County
's growth is important to you whether you live here, or in New York or California, Texas or Minnesota, because so much of our country's early history was shaped by the people who passed through here on the Oregon Trail, the Union Pacific Railroad, and later on the Lincoln Highway and U.S. Highway 30.
The Oregon Trail, the Overland Trail, and Routes of the Mormons--all passed through this valley enroute to the west, both sides of the river being used.
Aerial photographs still show the imprint of the wagon ruts in the fields south of the river. Although cultivation has erased most signs of the old Trails, the photographs still show them plainly, due to the different colors of dirt that blew into the old ruts. These will soon merge into other soil, obliterating the last visible vestiges of the old Trails, except for the very few original Pony Express Stations remaining.
The discovery of gold at Sutter's Mill, near what is now Sacramento, California, on January 24, 1848, touched off the greatest migration of history.
Paradoxically, the "Days of '49" really began in 1848. News spread slowly in those days, but travel was even slower.
But by 1849 the rush was on in earnest, and although the tide of immigrants diminished somewhat, it continued to flow up the broad Platte Valley until the completion of the transcontinental railroad, the Union Pacific, in 1868.
But even today the plains of the Platte continue to be the preferred route to -- and from -- the West. The Union Pacific is now flanked by Interstate 80 and Highway 30, while overhead fly the big airliners.
The early immigrants had the glitter of gold in their eyes, and failed to see the gold lying beneath the soil of the Platte Valley--the gold of agriculture and the water to make it pay.
Explore Dawson County
Explore Dawson County