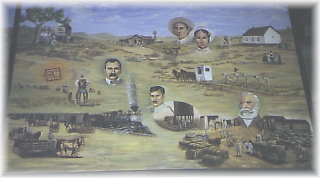 Murals express the history of
Ellis County
through artwork that gives us a feeling of being there while history was recorded. Six historical time-line murals are displayed in the Shattuck Public Library.
* The second panel shown above tells of these events:
An area SETTLER (upper left) guards his claim after the Run of September 1893.
SOD HOUSES (upper center) were palaces to their owners.
T.N. MILLER, one of Shattuck's first merchants and his wife MAUDE (SANDEFUL) MILLER, the first school teacher in the frame school, are pictured in upper right.
The SANTA FE RAILROAD (lower left) made up special trains to deliver the GERMAN IMMIGRANTS to our area. Two such trains arrived in Shattuck in November, 1904, and March, 1905.
The "BOX T RANCH" of the Dominion Cattle Company (left center) had its headquarters near Shattuck. Nearly all of
Ellis County
was in its range.
John M. McCullough delivered the U.S. Mail in this MAIL WAGON (center right) in early 1900s.
* Earlier history represented in Panel 1 (not shown) tells about the first developments throughout
Ellis County
:
BATTLE OF WOLF CREEK - 1838 - This was the first recorded history found of this area.
WAGON TRAIN -, represents the westward movement across our great country.
MILITARY DISPATCH RIDER - 1874 - 1890, carried messages and mail between Camp Supply and Fort Elliott, Texas.
GENERAL GEROGE ARMSTRONG CUSTER and his troops fought sub-zero weather as they passed through this area on their way to "The Battle of the Washita."
KIOWA EXTENSION LINE OF THE AT&SF - was completed through Shattuck in 1886-1887. In the background are the last of the vast buffalo herds.
EARLY DAY SETTLERS - stand in front of their dug-out home.
Explore Ellis County
Explore Ellis County