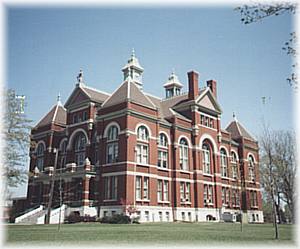 Take deep breath, step back and you'll be amazed what you'll see in
Franklin County
, Kansas. As you walk down Main Street in our county seat of Ottawa your eyes will look in wonder at the incredible Victorian Architecture in the heart of this city. Famous Kansas Architect, George Washburn, who made his home in Ottawa for nearly 60 years, designed most of our wonderful buildings with a variety of architectural flavors and splendid artistic features.
The Old Depot Museum reflects the strong influences that shaped this area and made an impact on the state and our country. The museum displays walk you through our local history from the many Indian tribes that once lived here to the development of communities, the battle over slavery that lead to "Bleeding Kansas". You'll also learn about the development of the railroads, the National Chautauqua Assembly's and even unique stories about such local historic sites as Silkville, a utopian community created to raise silkworms which became the "Silk-producing Capital of the World".
Art lovers will enjoy a wide spectrum of artwork from the rotating displays at the Ottawa Community Arts Center, Suzuki Strings, and the Ottawa Municipal Auditorium which brings performing arts to the stage. You can also take in the works of world renowned artist Elizabeth "Grandma" Layton at the Wellsville Library.
This area is blessed with natural beauty with thousands of acres of crop land, wooded areas, native prairie, lakes and the Chippewa Hills, We also have some of the finest parks and recreation areas. The spirit of the prairie calls out to you to enjoy the states first major hiking and bicycling trail. The "Prairie Spirit" which begins in Ottawa and runs through the countryside filled with turkey, fox, white-tailed deer and other fascinating animals. It stretches south through Princeton, Richmond to Garnett and Welda, KS.
Franklin County
offers a myriad of special events, from fairs and rodeos, to seasonal festivals, art and craft shows, car shows, homes tours and spectacular holiday celebrations, You are sure to find something that interests every member of the family and then you'll see for yourself that
Franklin County
, Kansas really is, Something To Write Home About!
Our county is located just 35 miles southwest of Kansas City and is easily accessible from interstate 35, U.S. Highways 50 & 59 along with KS state highway 68.
Explore Franklin County
Explore Franklin County