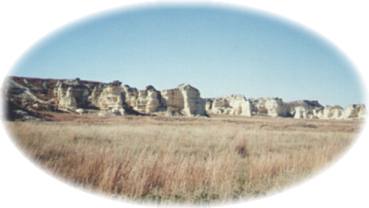 It was expected that settlers would soon follow the rails, but it was about ten years before many settlers came to
Gove County
. Because the Union Pacific Railroad was pushing westward, the legislature of 1868 created two new counties -- Gove and Wallace.
The county was named for a Union soldier, Grenville L. Gove, son of Moses Gove, who was one time mayor of Manhattan. Grenville L. enlisted in Company F, Sixth Kansas Cavalry and soon made corporal. In the summer of 1862 he raised Company G. Eleventh Kansas Cavalry. In May 1864 he was promoted to captain and his company was said to have been the best drilled company in the Eleventh Kansas Calvary. He was in the Price Raid Campaign and died soon after of brain fever at Olathe in 1864.
The creation of the county brought about the survey of the land. They noted the location of any marked trails, especially the Smoky Hill Trail. The first settler of record in
Gove County
was George Von Dehsen, who came to the county from Colorado with a party of buffalo hunters in 1871.
Charles A. Sternberg, a noted fossil hunter (and father of George Sternberg of more recent fossil-hunting fame), who made
Gove County
one of his regular hunting grounds, made his first trip here when a very young man in 1876. He says in his book The Life of a Fossil Hunter, I explored all the exposures of chalk from the mouth of the Hackberry Creek in the eastern part of
Gove County
to Fort Wallace on the south fork of the Smoky Hill, a distance of a hundred miles.
The county is full of the spots known as "buffalo wallows." These are shallow depressions averaging perhaps a rod in diameter, where the buffalo was accustomed to roll and wallow in the dust if the ground was dry, or in the mud if it contained water. With the passing of the buffalo, these wallows became again covered with grass, but not with the original buffalo grass.
In these, the prairie blue stem found lodgment and a difference in vegetation marks the spot , especially in the spring where it "greens up" earlier in the season.
Explore Gove County
Explore Gove County