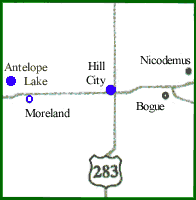 Graham County
was one of thirty-four counties created by the Legislature in 1867. It was named in honor of Captain L. Graham, Company D, Eighth Kansas Infantry, who was killed in action in Chickamauga, September 9, 1863. The area comprising
Graham County
was originally occupied by the Comanche tribe of Indians.
The Legislature in 1867 laid out the boundaries of
Graham County
, thirty miles square, making it one of the few "square" counties and giving it an area of 900 square miles.
The first white occupants of
Graham County
arrived in 1873 and 1874, and were herdsmen from Rooks and Norton Counties. The earliest homesteaders, largely from the middle west, settled along Bow Creek in the northeast corner of the county in 1877. The same year a colony of Negroes, many of the from Kentucky, was established at Nicodemus, near the eastern boundary of
Graham County
. They were attracted to the county by W.R. Hill, real estate dealer, after whom Hill City, the present county seat, was named. The first school and the first church in
Graham County
were established in Nicodemus in the winter of 1877-78.
In addition to Hill City, the county seat, there are two other incorporated towns, Morland and Bouge. There are also three unincorporated towns, St. Peter, Penokee and Nicodemus.
There are a number of small lakes in the county to provide excellent fishing with four major lakes within a one-hour drive. An abundance of quail, ducks, pheasants, turkey, and deer in the county provide sport for the hunter.
Explore Graham County
Explore Graham County