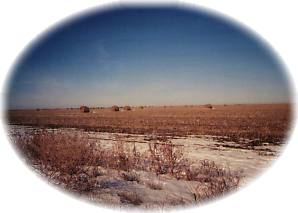 Greeley County
is situated in the center of the state, North and South and bounded on the West by Colorado, an area known as ?The High Plains, Short Grass, or Ever Prevailing Winds.?
Greeley was the last county in Kansas to be organized, and is the smallest county per population. Town companies organized other towns namely: Hector, said to have been named after Horace Greeley?s dog, also Greeley Center, Horace, Colokan and Reid, which were in contention and rival for the county seat. Today,
Greeley County
has two towns - Tribune and Horace
The first settlers, a colony from Harper County, came in November 1885. Civil War soldiers were given the opportunity by the government to file claims, mainly in the western part of
Greeley County
. Thus several, some with families, arrived in
Greeley County
in early 1887. Five girls came to western Kansas to make claims. These girls had a dug out built which they named ?Palace Hotel?; they cooked for the ?boys? who were also filing on claims.
Another colony was the United Presbyterian. They settled in the southwest part of the county. The Swedish Colony was in the northwest part of the county, known as Stockholm. Bethany Colony , a colony of Free Methodist, was in the northeast part of the county. These colonies had their own churches, schools and cemeteries.
Western Kansas has always had its share of natural disasters. One blizzard that is
Explore Greeley County
Explore Greeley County