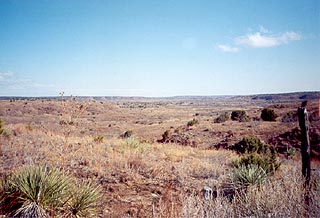 Harmon County
evolved from the tract of land earlier referred to as "Old Greer County, Texas" From 1874 to 1890, Texas drovers herded millions of longhorn cattle up the Great Western Trail to the cow town of Dodge City, Kansas. Non-Indian settlement of the area, then known as Greer County, Texas, began as a result of promising reports by returning drovers. Texans began to move across the Red River and establish vast ranches in the area.
In 1896, the United States Supreme Court ruled that Greer County did not belong to Texas as claimed, but was part of Oklahoma Territory. The decision opened up 1,500,000 acres of land for settlement. Texans already living in the area were allowed first choice of a homestead and the opportunity to acquire an additional 160 acres. "Old Greer County" of Texas was later divided up to become Jackson, Greer, Harmon, and a portion of Beckham counties of Oklahoma.
In 1909, two years after Oklahoma became a state, Governor C.W. Haskell proclaimed Harmon a county and named Hollis the county seat.
Explore Harmon County
Located in the Abernethy Building, the Harmon County Historical Museum features rotating displays depicting the life of pioneers and residents, dinosaur fossils, covered wagon and blacksmith shop. The works of local artists are also showcased.
Hollis, OK
Museums
---
The Harmon County Courthouse is listed on the National Register of Historic Places. Harmon County evolved from the tract of land variously claimed as Greer County, Texas, Indian Territory, Oklahoma Territory, and Greer County, Oklahoma. On June 2, 1909
Hollis, OK
Historic Courthouses
---
Explore Harmon County