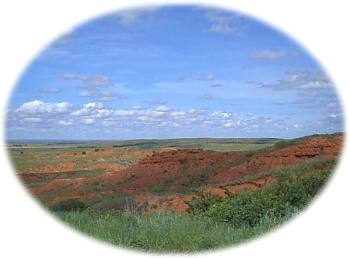 Snuggled in the northwest corner of Oklahoma, with the Cimarron on the east and no man's land on the west, Harper is the county with
distinction
, not extinction.
Red hills and cedar canyons, wheat fields and oil fields, pasture, sagebrush, and prickly pear,
Harper County
is a hunter's paradise with deer, quail, turkey, and pheasant.
Four seasons are defined, sunsets are divine. Bright stars, clean air, wonder views, friendly people and prairie dogs, too ... bird-watching and listening, as prairie chicks boom ... nature trails, soapweed and cottonwood trees ... all help to make
Harper County
the place you need to be.
Explore Harper County
Explore Harper County