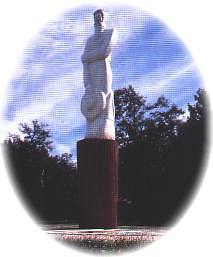 Wilkommen!
The
Harvey County
area boasts one of the largest Mennonite populations in the country. Whil bonnets, beards, and buggies have been forsaken for a more modern lifestyle, the Mennonites today, like their ancestors before them, are warmhearted courteous and friendly, more liberal than their Amish cousins and well-known for their hospitality and good cooking.
The Mennonites left Russia for fear of religious persecution in the 1870s. Among them was one of Kansas' famous Mennonite immigrants, Bernhard Warkentin, whose letters home described the fertile Kansas prairie and the promise it held for farming the "Turkey Red" hard winter wheat. His letters persuaded moter than 5,000 Mennonites to settle in Kansas.
Entire congregations left Russia and came to Kansas. These hardworking farmers broke the virgin sod with wheat that graced the steppes of Russia. Today, the prairies still wave with the golden grain that makes Kansas the "Breadbasket of the World."
Today Mennonite influence is clearly visible.
Harvey County
is home to nearly two dozen Mennonite Churches, two colleges, a nationally recognized mental health center, the Mennonite General Conference national headquarters, several halfway houses and Mennonite Press. Each were founded and are supported by Mennonites. Come and visit our museums, sample our ethnic foods and enjoy our unique festivals.
Let us share our heritage with you!
Explore Harvey County
Explore Harvey County