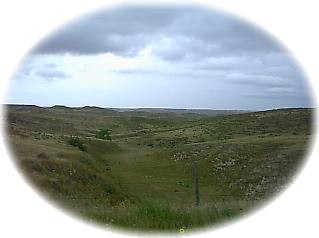 Once part of the great buffalo range, Hayes County today is primarily a crop and livestock raising community with Hayes Center located in the center of the county.

Most of the school houses in the county, were made of sod, but a stone school house still stands north of town of Hamlet in southwest Hayes County.

Just a few miles north from the school house is Initial Rock. In the mid-1800s, troops came through this area and camped below the rock where they carved the initials of their company and the year. If physical recreation is what you have in mid, the rock is in a canyon and has no road leading to it.

Eight miles east and north of Hayes Center is Camp Duke Alexis Recreation Area. This area contains approximately 140 acres, including a 100 acre lake, well-stocked with fish. The area around Camp Duke Alexis was once a cherished hunting ground for the Indians. In 1872, a buffalo hunt was staged fro Grand Duke Alexis. The Nebraska Historical Society recently replaced the original sandstone marker with a more durable one, which stands on the same beautiful land where the hunt was held.

Hayes County has six active churches. The Sacred Heart Catholic Church and St. John's Lutheran Church are registered with the Nebraska Historical Society and have many country cemeteries. A complete catalog of cemeteries is found in the County Clerks office.

Keeping the pioneer spirit alive, citizens of Hayes County hold an annual July 4th Celebration.
Explore Hayes County
Explore Hayes County