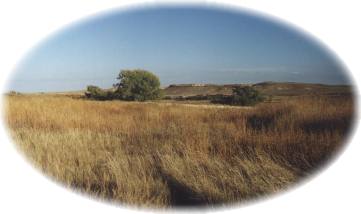 In 1868, seven years after Kansas became a state,
Hodgeman County
was created by an act of legislature. However the county was not formally organized until 1879. It was named in honor of Captain Amos Hodgman, Seventh Cavalry officer. The discrepancy in the spelling of the name is due to a typographical error that was never corrected.
Many of the brave and most feared men in the 7th regiment were in Hodgeman's Company. It became one of the more famous Companies, the 7th Calvalry was later led by Gen. Custer in the Battle of Little Big Horn, and Captain Hodgeman became known for his extreme bravery. The quiet talking, rarely smiling Captain Hodgeman, died on the field of battle, October 10, 1863, while leading a charge against rebels, near Wyatt, Mississippi. His death was much less noticed than the death of one of his more famous fighting companions, "Buffalo Bill" Cody.
The first land claim was made by John O'Loughlin, a former soldier who hailed from Fort Hays. He established a toll bridge over the Pawnee in the north-eastern part of the county, and began selling supplies to freighters running a route from Fort Hays and Ellsworth to Fort Dodge. O'Loughlin sold out to George Duncan and the spot became known as the Duncan Crossing. A monument, dedicated with considerable ceremony in 1929, marks this site.
Explore Hodgeman County
Explore Hodgeman County