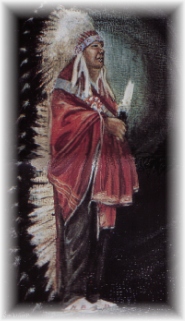 The lands in the area of
Kay County
and surrounding the present Kaw Lake were once claimed by the Osage Indian Nation. Controversies about this claim let to the ratification of a treaty in 1870 forced the Osage east into what is now Osage County. In 1871, a Congressional Commission and a delegation of Kaw Indians selected the northeast portion of the former Osage holdings as a future home for the Kaw Indians. Chief Washungah, or Washunga, both spellings are correct, led 516 Kaw Indians from Council Grove, Kansas to the 100,000 acres set aside for the Kaw Reservation.
The old settlement of Washungah is located within the Federal Corps of Engineers project lands of Kaw Reservoir. It was the site for the Kaw Agency, Kaw Cemetery, and a trading post. Included among its buildings were a boarding school dormitory, infirmary, the superintendent's home and the school which later became the Kaw Council House. The council house has been moved to higher ground and reconstructed, stone by stone, and is now listed on the National Register of Historic Places. The Kaw Cemetery was also relocated to a higher elevation and is now located near the city of Newkirk, Oklahoma.
Another historical site located on the corps lands is the Deer Creek archeological site located in the vicinity of Traders Bend Park area. This site, which is also listed in the National Register of Historic Places, is believed to represent an early French trading post and Indian village. The French first entered the area in 1719, and shortly thereafter, trade with the Indians was established.
Other points of historical interest located in the county are the famed "Pioneer Woman" statue and museum and the Marland Mansion, both of which are located in Ponca City. Also located seven miles southwest of Ponca City is the site of the once sprawling famous 101 Ranch "White House." This was once one of the world's largest ranches and was often visited by Presidents and Kings and the rich and famous from all points of the world.
In 1902 "Old Kaw City," now inundated by the waters of Kaw Lake, was founded as a farming community in the fertile oxbow bend of the Arkansas River. It later became a booming oil town when oil was discovered nearby. Today, a new Kaw City is located on higher ground near the lake.
Explore Kay County
Explore Kay County