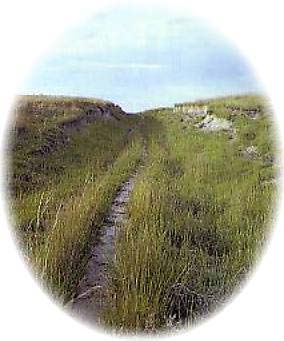 Travel the routes of Pioneers, Gold Seekers, Homesteaders and Cowboys. In
Keith County
you can still see the ruts of the Oregon Trail. This was the route of the California and Mormon Trails, the Pony Express, the stagecoaches and the "Iron Horse," the coast-to-coast railroad.
From 1840-1870, over half a million people followed the "Pioneer Interstate." They came in covered wagons, some on horseback, but most of them walked the 2,000 miles from Independence, Missouri, to the West Coast.
Ogallala
, Nebraska's Cowboy Capital, would see as many as 125,000 head of Texas longhorns yearly herded up to the End of the Texas Trail to be sold and shipped back east. Ogallala was the northernmost shipping point when cattlemen left Dodge City, Kansas, with younger cattle for higher prices. Gold flowed freely, saloons and dancehalls flourished, and rowdy was a daily attitude, especially during the summer drives. Boot Hill became a final resting place for many of these cantankerous cowboys.
North of Ogallala is Nebraska's largest reservoir and recreation mecca,
Lake McConaughy
. Big Mac has become a favorite of campers, hunters, sailboaters, windsurfers, swimmers, picnickers, ice boaters, water skiers, scuba divers, and many others seeking outdoor fun. Lake Ogallala, formed during the construction of Kingsley Dam and located "down the hill" from the dam, is Nebraska's premiere eagle-viewing facility. Clear Creek Waterfowl Management Area at thewest end of McConaughy attracts large numbers of Canada geese.
Explore Keith County
Explore Keith County