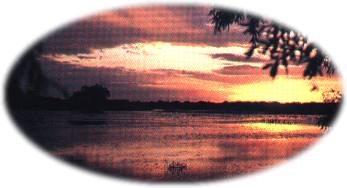 D.R. "Cannonball Green looked up at the blue skies and liked what he saw. The he looked ahead at the expanse of prairie and saw opportunities in
Kingman County
. The blue skies and fresh air still exists. The friendly people who settled here are still ready to help their neighbors.
Kingman County
is ready to share with you what it has.
Just 7 miles west of Kingman, discover the Kingman State Lake and Byron Walker Wildlife Area. Within this attractive 4529 acre area, enjoy a stroll on the nature trail, fish in the waters, camp, hike, hunt and even brush-up on your bird-watching skills.
You can dine in a former lumber yard in Zenda and det a glimpse of the miniature historic Zenda village on display. Imigine you've just arrived at one of the depots in Kingman or Cunningham. Peer up the fire hose drying tower west of the Mississippi. For a few minutes of leisure, take a walk along Kingman's Riverside Island Park walking path and stop to feed the ducks and Canada geese. In Waterloo, explore a unique peice of living history, the Riggs/Waterloo Aboretum.
Explore Kingman County
Explore Kingman County