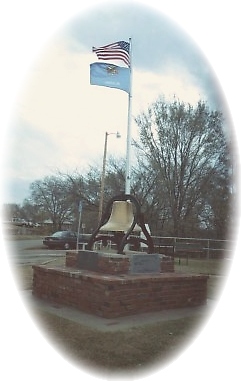 The Plains Indians roamed this area for hundreds of years before it was turned over to the Iowa, Sac and Fox, Citizen Potawatomi and Absentee Shawnee Indian tribes after the 1866 treaty between the United States and the Creek Nation. In 1890, the government bought the land again and designated two counties as County A and County B, whose county seats historically became the only two cities in Oklahoma to be settled by their own land run. County A became
Lincoln County
.
Prior to settlement, this area had no rail link with the outside world and cattle trails were established for marketing purposes. One such trail, the West Shawnee Cattle Trail, entered
Lincoln County
between Meeker and Prague and angled northeast to near Stroud, then northwesterly out of
Lincoln County
near Avery. A number of roads were also cut across the county for marketing access. The first road, the "Ozark Trail," crossed the county at approximately the same course as the old "U.S. Highway 66." The location of
Lincoln County
and its mesh of highways form good transportation routes to the major cities of Oklahoma.
Lincoln county has contributed much to the development of the history of Oklahoma. The fourth governor of the state was from
Lincoln County
. James B.A. Robertson served as governor from 1919 to 1923. Also, a native of Kendrick, Roy J. Turner, was elected governor and served his state from 1949 to 1951.
Athletes Jim Thorpe, Carl Hubbell, Paul and Lloyd Waner all honored
Lincoln County
history.
John Embry, who homesteaded northeast of Chandler, served as United States Attorney for the Western District of Oklahoma from 1907-1912. During that time he was instrumental in restoring the right to vote to the Negroes who had been stripped of that privilege by the so-called, "Grandfather Law."
Bill Tilghman, a pioneer making the run in 1891, was elected sheriff of
Lincoln County
in 1900. He served as United States Marshal and became known as "Two-Gun Bill." Tilghman and J. Benny Kent, a cameraman who lived in rural
Lincoln County
, produced a single movie entitled "The Passing of the Oklahoma Outlaw." Tilghman was the director as well as star of the movie.
In early statehood years, Chandler was considered the militia center of the state. It is headquarters to the First Battalion, 160th Field artillery of the 45th Infantry Brigade. The battalion strives to maintain the highest standards of artillery training.
Many Czechoslovakian settlers came to the Prague area and contributed their skills in the development of that farming and business community.
Explore Lincoln County
Explore Lincoln County