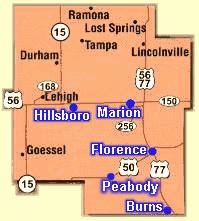 Welcome to
Marion County
!
You will soon discover some of the best kept secrets in the Heartland!

Each community in Marion County has a unique heitage, which you may share and experience at any of the many museums, restaurants, craft shops and other attractions throughout the country.


Marion County is located at the center of it all, in the middle of Kansas in the central United States.


In the 1860's, Marion County extended west all the way to the Colorado Territory line!. Today those borders have been reduced, but Marion County Still offers plenty of territory for tourism and recreation!


Marion County is the only location in the United States where the Santa Fe Trail and Chisholm Trail cross each other's paths. Visitors may track the Santa Fe Trail in northern Marion County, near Lost Springs, Romona, Tampa and Durham.


Cowboys herded longhorns from Texas along the famous Chisholm Trail, located in the western part of the county near Goessel, Lehigh, Hillsboro and Durham.


In southern Marion County, the towns of Florence and Peabody were founded along the route of the Santa Fe Railroad.


Old Indian trails cross through the county, as well. Many artifacts continue to be discovered in several locations.

Explore Marion County
Explore Marion County