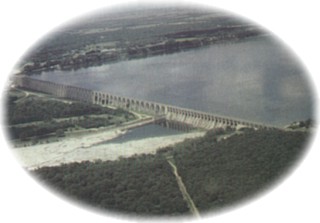 Sunshine, clear blue water and friendly people await visitors in the
Mayes County
communities. Attractions include the magnificent mile long Pensacola Dam which is the world's largest multiple arch dam. The town of Disney welcome's you to the annual Picture in Scripture Amphitheater where record breaking crowds watch a cast of 60 perform the biblical account of Jonah, Jesus, and the great whale.
This region has a rich cultural history. Until the 1830's this area was part of the hunting ground of the Osage Indian tribe. In 1796, Major Jean Pierre Chouteau opened a trading post near present day Salina, on the shores of Lake Hudson. The trading post encouraged fur trapping along the Grand River and its tributaries. This site significantly became the oldest white settlement in the state, and the Chouteau Museum commemorates this colorful history.
Near the town of Chouteau is Mazi which is near where the Union Mission was established in 1820. It was at this mission that the first school in the state was organized in 1821, the first printing press was located, and the first book published in Oklahoma was printed in 1835.
We hope you enjoy your visit in each city as you travel throughout
Mayes County
.
Explore Mayes County
Explore Mayes County