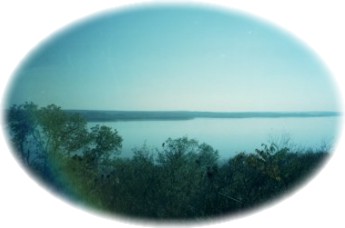 The history of
McIntosh County
and the Lake Eufaula area ranges from Civil War action to Spanish explorers and tales of Belle Starr, whose grave is in the lake area.
Part of this early history was covered by the waters of Lake Eufaula, when 63-foot high Standing Rock disappeared beneath the rising water. The rock had Spanish carvings and the date 1851 and many believed the carvings were directions to Spanish jewels and gold buried in the area.
Of wide interest to tourists is the national park that marks the Honey Springs Battlefield of the Civil War. Here at the historic spot the greatest battle in Oklahoma and one of the biggest fought west of the Mississippi gave the northern troops a victory that played a decisive factor in the termination of the mighty conflict.
Visitors to the Eufaula Dam will enjoy seeing an interesting eight feet by sixteen feet mural painted by Indian artist, Monroe Moore. Belle Starr, famous woman outlaw, is also pictured in the Moore painting.
History ...
McIntosh County was named after Creek Chief, William McIntosh. The Creek Indians were located originally in parts of Georgia, Alabama, and Mississippi. When Andrew Jackson acquired the Creeks' Georgia lands and required the land be turned over to the Federal Government, the Creeks then established a death penalty for signing away their lands. Chief William McIntosh of the Lower Creeks signed a treaty in 1825 exchanging remaining Creek lands in Georgia for land between the Arkansas and Canadian Rivers in Oklahoma Indian Territory and $400,000. The upper Creeks under Chief Opothleyahola refused to sign and a group executed Chief McIntosh.

McIntosh County was a part of the Creek Nation except for the southeast corner, which was Cherokee. The eastern boundary ran from a couple of miles east of Eufaula north and a little east to about Fort Gibson. The route of the Texas road ran very close to this boundary. Settlers passed through McIntosh County establishing the Texas Road on their way to settle Texas in the 1830s. Soon cattle were moving back up the Texas road along the trail, (now U.S. Highway 69), through what would later become North Fork Town and Checotah.


Explore McIntosh County
Explore McIntosh County