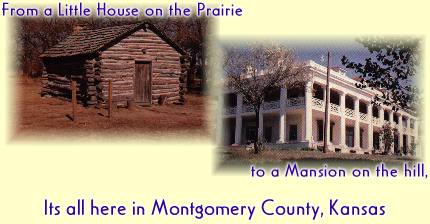 Established in 1867 and once home to the Osage Indians,
Montgomery County
is today a very diverse county capitalizing on its natural resources--water, fertile soil, gas, oil, history and friendly people.
Life moves at a slow pace in this part of the country. When you walk down the streets in
Montgomery County
, you'll be treated to friendly hellos and big smiles.
From a little house on the prairie to a mansion on a hill, adventure awaits you in
Montgomery County
, Kansas. History comes alive as you travel through the gentle hills of
Montgomery County
, located in Southeast Kansas near the Oklahoma and Missouri borders.
The Daltons died here, Laura Ingalls Wilder lived here. Walter "Big Train" Johnson and Mickey Mantle played here, and we welcome you to visit here-- for a day, a week or a lifetime.
Explore Montgomery County
Explore Montgomery County