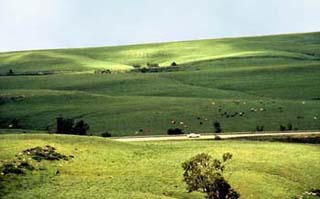 Known for being the last place to stop and purchase supplies before heading west on the Santa Fe Trail,
Morris County
is rich in history. The ruts from the numerous wagon trains are still visible out across the scenic Flint Hills.
When the Santa Fe Trail was the great highway between the Missouri border, then the western limit of American settlement, and the Spanish town of Santa Fe, Council Grove was an important waypoint on the route. Situated on the Neosho River, it was a natural stopping place, well watered with abundant grass and timber.
At this grove in 1825 the U.S. commissioners negotiated with the Osages for a passage across their lands. This right-of-way, surveyed by the government in 1825-1827, became the Santa Fe Trail as it is known today, and from this council with the Osages the town of Council Grove took its name.
The county has many interesting sites including the Kaw Mission, the Hays House Restaurant, the Seth Hays House, the Last Chance Store, the Old Brewery, the Cottage House, the Calaboose, the Mather-Blim House, the Sylvan Grove Depot, the Missouri, Kansas and Texas Railroad Depot, and most of the downtown business district of Council Grove is an historic district.
Morris County
is home to the Council Grove Federal Reservoir which is host to thousands of visitors each year enjoying good fishing, water skiing, boating, and camping. Besides the Federal Reservoir,
Morris County
has a city owned lake just outside of Council Grove, and a privately owned lake in the southeast corner of the County known as Lake Kahola.
Agricultural interests dominated the early development of
Morris County
and is still the prominent industry today. The grasslands of the Flint Hills are desired by cattlemen all over the nation. Thousands of cattle arrive every year from out of state to be turned out onto the lush native grasses of the Flint Hills.
Explore Morris County
Explore Morris County