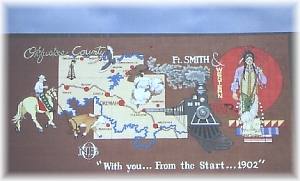 Okfuskee County
, created at statehood, had its name and the name of the small town established in 1896, 12 miles north of Okemah, chosen for a Creek town in Cleburne County, Alabama. The name referred to the origin of a clan of the Muskogee, or Creek, Indians.
Okemah, the county seat, annually attracts thousands of folk music enthusiasts to the Woody Guthrie Free Folk Festival. Okemah is the hometown of the folk music legend, Woody Guthrie, who reminded us all that "this land is your land and my land from the Redwood Forest to the Gulf Stream waters."
Boley is the most famous of Oklahoma's all-black towns as declared by Booker T. Washington as the most interesting of the Negro towns in the United States. There are 14 historic structures left downtown, where the entire commercial district has been named a national landmark. Boley's Rodeo and Barbecue Festival attracts 30,000 fans each year to its 95 year old rodeo celebration.
Explore Okfuskee County
Explore Okfuskee County