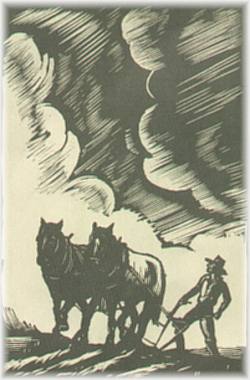 On the Meade Ranch in southeast
Osborne County
is a bronze plate with cross-marks upon it which is the most important spot on this continent to surveyors and map makers. The point of intersection of those two lines is called the Geodetic Center of the United States. On the tiny point where those two lines cross depend the surveys of a sixth of the world's surface.
Of literary significance,
Osborne County
is the prairie location of the John and Rosa Ise homestead whose lives were chronicled in the annotated book, Sod and Stubble, highly recommended reading for a day by day account of pioneer life on the prairie.
Russell Stover's birthplace was in Alton, and Porky Pig had roots in Portis. For the most enjoyable learning experience, come to the Storytelling Capital of Kansas held in Downs the last weekend in April.
You're welcome anytime to Osborn
Explore Osborne County
Explore Osborne County