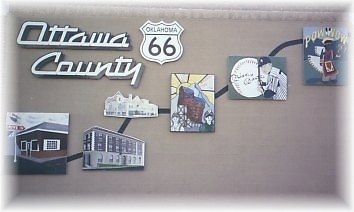 Ottawa County
is rich with Native American heritage. The county was once owned totally by Indians. Today, the Seneca-Cayuga, Eastern Shawnee and the Quapaw are the only tribes of the Miami area who own any appreciable amount of trust land in the area.
Over a century ago, 153 Modoc men, women, and children arrived at Baxter Springs, Kansas, as prisoners of war. The group was composed for the most part by women and children. It was decided that the Modocs would be located temporarily at Seneca Station on Eastern Shawnee land. In 1874, the government purchased 4,040 acres of land for the Modocs from the Eastern Shawnee. Today, the descendent of the Modoc exiles are productive and respected members of the community.
As a nation, the Ottawa Indians were the finest of canoemen, expert hunters and very cautious warriors, never feeling the wrath of other Indian tribes. The Ottawans were never a subjected people. In 1832, the bands of the Ottawa were granted a reservation of 74,000 acres in Franklin County, Kansas. Most Ottawas moved under protest. During the Civil War, the Ottawa reservation became a refuge for the Quapaws, Senecas, Shawnees and some Osages. The chief of the Shawnee, grateful for Ottawa hospitality, told their chief that if theOttawas ever wanted to move, the Shawnees would sell them part of their reservation.
The Ottawas purchased land from the Shawnees in 1867, and moved to Indian Territory. The Quapaws are one of the eight tribes situated in
Ottawa County
, having been relocated here from Arkansas following the 1833 Treaty.
The Seneca were from New York's Genesse County. They were so confident of the strength of their warriors that they could walk fearlessly from New York to the Carolinas. To be a Seneca was to be a member of one of the most respected Indian tribes in North America.
In 1832, a band of Shawnees set out from Ohio on a journey to Indian Territory. By December, 1832, they arrived in what is now
Ottawa County
. They were to join the Senecas who had reached the territory in July 1832. The Wyandot people belong to the Iroquoin linguistic family. At the time of their discovery by the French, they were located in present Ontario, Canada, east of Lake Huron. In 1859, 33,000 acres of Seneca land was awarded to the Wyandots in order to repay an old act of friendship. The government did not approve the action until the 1867 Omnibus Treaty was made.
Explore Ottawa County
Explore Ottawa County