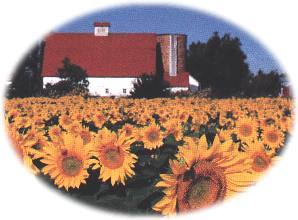 The land now recognized as
Pawnee County
was a high traffic area long before its boundaries were officially plotted and permanent settlement began in 1872. The buffalo and Indians roamed freely for centuries before the white soldiers arrived in 1859 to establish a military post at Fort Larned to assist in commerce and travel along the Santa Fe Trail. George Custer, Kit Carson, William Cody, Black Kettle, Santanta, and Yellow Bear were, but a few of the legendary people frequenting the fort.
It was Henry Booth, retired captain of Company L, 11th Kansas Calvary, who petitioned the state for official organization of the county in 1872, naming it after the familiar Pawnee River as well as recognizing the Pawnee Indians who inhabited the area historically.
Garfieldt: Originally named Camp Criley, in 1872 was a supply station for workmen building the Santa Fe Railroad and Captain J.D. Criley, superintendent of construction. In 1873, members of the Ohio colony filed on 30 pieces of land here and changed the name to Garfield, then congressman from their old district in Ohio, and later President of the United States, President Garfield promised to give a bell to the first church built in the community. The road side chapel (replica of the first Congregational Church-1875) houses the historical bell in Downey Park located in Garfield on Highway 56.
Burdett: Located 23 miles west of Larned, was originally named Brown's Grove in 1876 in honor of Dr. Gallitin Brown who settled beside a large grove of ash trees. In 1880 the railroad was built and the name was changed to "Burdette" in honor of Robert Jones Burdette who was in the newspaper business. Over the years, the last "e" in Burdette was inadvertently dropped.
Rozel: Located 15 miles west of Larned, was founded July 19, 1886 when the Arkansas Valley Town and Land Co. acquired the SW 1/4 from the railroad for $832 and selected a town site consisting of two city blocks. The name Rozel was chosen in honor of a daughter of one of the founders of the Land Company whose name was Rozella. Long before the town was founded Indian tribes used this immediate vicinity for their camping grounds.
Explore Pawnee County
Explore Pawnee County