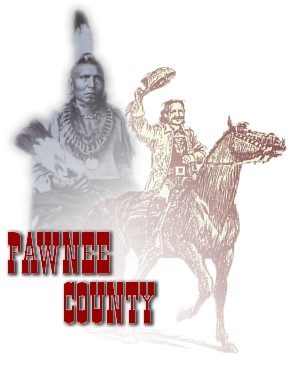 The
Pawnee County
communities of Cleveland, Pawnee, Ralston, Westport, Terlton, Blackburn, Skedee, Hallett, Maramec, Jennings and Quay invite you to visit this area of Oklahoma.
Pawnee County
offers many activities and attractions for your leisure time. The city of Pawnee presents the Pawnee Bill Wild West Show re-enactments and guided tours of his ranch, the Oklahoma Steam and Gas Engine Show, the World's Largest Free Pow Wow, and the Bootthrow Championships of Oklahoma. Hallett is home to the Hallett Motor Racing circuit, which features 33 weekends of racing each year. Cleveland's annual fireworks show is a must with a patriotic musical salute. Throughout the year
Pawnee County
schedules Indian powwows, rodeos, bicycle tours, golfing, and many other activities.
About Our History ...
Pawnee County is at the crossroads of the American West, marking the division between the lush, hilly, heavily forested East and the arid, flatter grasslands of the West. It is bounded on the north and south by the Arkansas and Cimarron Rivers with plentiful game, wood, water, and shelter that attracted primitive man and, later, bands of Native Indians.

The region became a crossroads as Prairie and Plains Indians followed the migrating herds of buffalo. The Wichita and, later, the Osage and Cherokee claimed the area as tribal hunting domain, and bloody clashes took place as these nations fought over the area.

In 1874, the Paw-nee, along with the Otoe-Missouria tribes, were moved into the Oklahoma Indian Territory when they were expelled from the Kansas and Nebraska plains. They occupied the western two-thirds of Pawnee County while the remainder, part of the Cherokee Outlet, was a mecca for cattlemen attracted by lush grass and plentiful water. Also, the area became a haven for bandits and bootleggers from both the Oklahoma and Indian territories.

This mixture of Western cowboys, the Wild West, and Native Americans gave the region a remarkable blending of cultures which was portrayed by the county's most famous personality, Gordon W. "Pawnee Bill" Lillie, and his Wild West Show.

According to most linguists, the Pawnee derived their name from the Pawnee work Pariki, which early French traders corrupted into Pani, Pana, Panana, Panamaha, Panimaha, or Pawnee. Pariki, which meant horn, referred to the scalp lock, which the Pawnee dressed with red ochre and buffalo fat until it resembled a horn protruding from their head and curved backward. This identifying "head dressing" was the origin of the Choctaw reference word, Pana, meaning a braid or a twist of hair, and the Siouan word Pani or Panyi, which refers to red bird feathers.


Explore Pawnee County
Explore Pawnee County