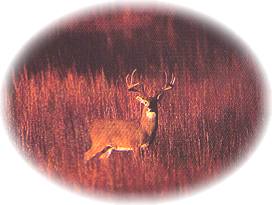 Nestling between the Jack Fork Mountains and the Kiamichi Mountains,
Pushmataha County
is a paradise for those who hunt, fish, and who love the out of doors. It is the heart of the deer country and the mecca for hunting and fishing.
Antlers, the county seat of
Pushmataha County
, named for the numerous antlers left by Indian hunters, is the gateway to the Kiamichi Mountains. The county is a popular area for fall foliage and spring dogwood tours. Nature-lovers and sportsmen alike can enjoy an abundant supply of fish, birds, and wildlife and plenty of unspoiled trails, mountains, creeks, rivers, and lakes. Be sure and look for the Potato Hills, Oklahoma's oldest geological feature.
Hunting, fishing, camping and boating are available at Sardis Lake and Clayton Lake in Clayton and Ozzie Cobb Lake near Rattan. All attractions in their own right, they are best known as bass hot-spots to fishermen. The Kiamichi and Little Rivers are particularly known for float trips, tubing, fishing and a secluded atmosphere for those wanting to get away from it all. Deer, turkey, quail and squirrel hunters are sure to appreciate the Pushmataha Wildlife Area near Clayton.
A visit to
Pushmataha County
would not be complete without a visit to Tuskahoma, the first political capitol of the Choctaw Nation where everyone is invited to the annual Choctaw Nation Labor Day Festival. You will see tribal dancing, Indian crafts, pow-wows and parades.
The county was named after Choctaw Chief Pushmataha (Push-ma-ta-ha) meaning "Sprout Completed." Born in 1764, Pushmataha was known in the Southwest as an outstanding individual and as a warrior. He knew very little of the parentage tradition stating he was left an orphan at an early age. Pushmataha was said to be one of nature's nobility, a man who would have adorned any society, a warrior of great distinction, wise in council and eloquent in an extraordinary degree.
Explore Pushmataha County
Explore Pushmataha County