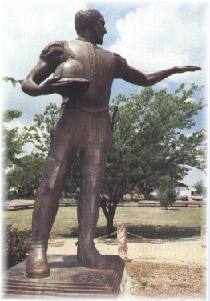 The history of
Seward County
began over 400 years ago in June of 1541 when Don Francisco Vasquez de Coronado and 36 soldiers entered what is now Kansas near the present site of Liberal searching for the fabled "Seven Cities of Gold." A bit from one of the expidition's horses was found near Liberal and is on display at the museum.
In 1872 western Kansas consisted of mile after mile of waving prairie grasslands and one large, flowing river. Settlers traveling west on the Santa Fe, Jones & Plummer, and western cattle trails simply passed through thinking this area "uninhabitable". But one undaunted man, making his way west, did stop and settle. Mr. S.S. Rogers was the first homesteader in
Seward County
.
Outside the Cimarron River, water was very scarce in Southwestern Kansas and there was usually a charge for even a small amount; however Mr. Rogers always gave his water free to passing travelers.
In April of 1888 the plat for the present town site was created. In eight days 83 plank constructed houses were built. Within a year the population grew to 800.
In 1920, gas was discovered west of Liberal on what was to become the vast Hugoton Gas Field -- the largest gas reserve in the world. In early 1951, oil was discovered southwest of Liberal.
Those early settlers were right. Something wonderful was in the future, and still is. That optimistic, "can-do" attitude still exists, and it is this attitude that will carry
Seward County
into the twenty-first century preparing for and embracing new opportunities along the way.
Explore Seward County
Explore Seward County