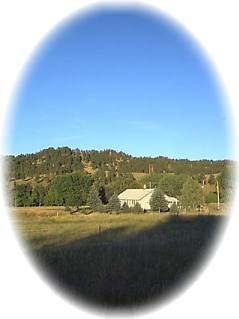 In the Spring of 1879, cattlemen first entered the vast area known as the Nebraska Sandhlls. About two-thirds of
Sheridan County
is in this rolling country with its lush meadows and hundreds of small lakes and springs. Drive a few miles down a Sandhills road, stand quietly, and savor the beauty of the prairie. Look for the White tail deer, the mule deer, and the white rump of the Pronghorn Antelope as you drive the roads in
Sheridan County
.

The northern part of Sheridan County is known as the Pine Ridge. It is comprised of a large rock formation that is covered with a Ponderosa Pine forest. The Beaver Wall, nearly vertical rock cliff extending for several miles, offers scenic views of such historical sites as Sheridan Gates, Old Camp Sheridan, and Scout Point. Here can be remembered the events of the 1800s involving the U.S. Army and the Sioux Indian chief, Crazy Horse.

Everywhere in Sheridan County you will see prime cattle herds. Here cattle is "King" and the ranchers raise some of the finest beef in the world!

Bass, bluegill, bullheads, perch, and other lake fish are waiting to be caught at Smith Lake, Walgren Lake, and private lakes found in Sheridan County.

Sheridan County has a variety of activities for the outdoor enthusiast. Canoeing, Hiking, Hunting, Bird Watching, Star Gazing, Swimming, Cross Country Skiing, Rock Hunting, Arrow Head Hunting, and Trail Rides - all family activities.

Whether you are visiting Sheridan County for the scenery, the history, the people of the spirit of the great outdoors ... you'll find it ALL in SHERIDAN COUNTY, NEBRASKA!
Explore Sheridan County
Explore Sheridan County