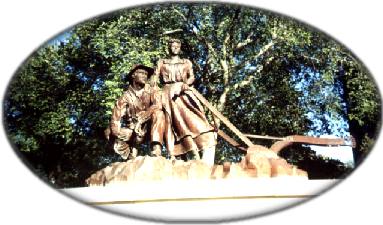 What is now
Sherman County
, named after General William T. Sherman, was, in its earliest history, a part of the great grazing pasture of the huge herds of American Bison, there is no evidence of Indian Settlement before white men came to settle.
Ft. Wallace, an army outpost built in the late 1800s for the protection of railroad builders and settlers against the "hostiles" is located south of
Sherman County
. It was the center of many battles. The buildings were constantly under repair or reconstruction because of the Indian attacks.
One such battle in the northeast corner of
Sherman County
, is the first recorded event in the history of the county.
It is known as the Kidder Massacre.
The early settlers in
Sherman County
in 1885-1886 started towns in or near the center of the county. Each of these small towns vied for the title of county seat, and now and then a 'war' developed.
The coming of the Rock Island Railroad across the center of the county had much to do with the end of the 'county seat war'.
Explore Sherman County
Explore Sherman County