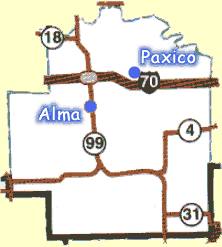 This land was the home of the Pottawatomie and Kaw Indians before it became a county in 1882. The first log house was built in
Wabaunsee County
in 1842. It was first known as Richardson County but was later named for Chief Wabaunsee of the Pottawatomie Tribe and means "Dawn of Day". It is located in the beautiful Flint Hills of Kansas. Thousands of cattle roamed our hills in spring and summer. Wild flowers grow abundantly and photographers find their dreams can come true.

Alma is the county seat, but became so only after three elections with Wabaunsee running a close second each time.


During the Civil War, people came from Connecticut wanting Kansas to remain a free state, and formed the Beecher Bible and Rifle Colony bringing with them guns to fight if needed, and Bibles to teach others about Christianity.


An underground railroad was organized out in the country to help slaves escape to Canada, but it did not reach into the towns. The home of Captain Mitchell in the north part of the County was one of the stations to keep the slaves in hiding until they were taken into Iowa and on to Canada. Most of the early immigrants came into this area from Germany.


Each town in Wabaunsee County: Alma, Alta Vista, Eskridge, Harveyville, Maple Hill, McFarland, Paxico and Wabaunsee, is a typical small town with friendly people who are happy to live here.

Explore Wabaunsee County
Explore Wabaunsee County