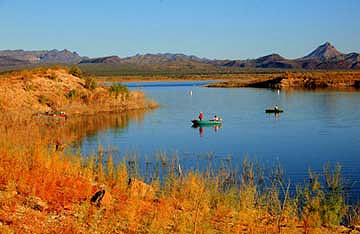 Nestled in the Bill Williams River Valley away from the hustle and bustle of everyday life, Alamo Lake offers outdoor fun, premier bass fishing, rest and relaxation. The Army Corps of Engineers designed the earthen dam in 1968, primarily for flood control. During flood events, the lake basin is capable of "capturing" large amounts of water in a relatively short time. The lake has been recorded rising 11 vertical feet in one night! Unusually high flows during the late 1970's and through the 1980's have increased the average size of the lake, helping to create one of Arizona's best Bass fishing holes.
Fishing tournaments are common at the lake and anglers have an excellent opportunity to catch bluegill, largemouth bass, channel catfish, and black crappie.
Campgrounds are available at Alamo Lake State Park providing full hookups, dump station, restrooms and showers, boat launching, and swimming. Also, the area has good wildlife viewing opportunities. Stargazers are sure to enjoy the unbelievable view of the night sky with the nearest city lights some forty miles away!
Lake Information
Fees: Park Permit Required
Location: 35 mi N of Wenden, AZ, off US-60
Contact: 928-669-2088