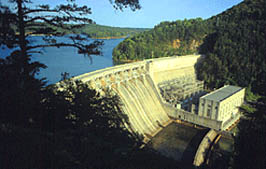 Allatoona Lake is one of the most frequently visited U.S. Army Corps of Engineers lakes in the nation with 270 miles of shoreline and over 12,000 surface aces of water. Located only 30 miles from Atlanta, more than 6 million visitors each year enjoy picnicking, camping, hunting, fishing, swimming and other water sports, and observing the abundant wildlife along the shores of this beautiful lake.
The visitor center features video exhibits and displays about the area's history, ranging from the time of early Indians to the gold mining and iron making days, from the Civil War up to the present.
Located in the foothills of the Blue Ridge Mountains, this is the oldest Corps lake in the southeastern U.S. Camping, hiking, marinas and cabins are available, and historic Civil War battlefields are nearby.
Lake Information
Location: 5 mi E of Cartersville on GA 20
Contact: 678-721-6700