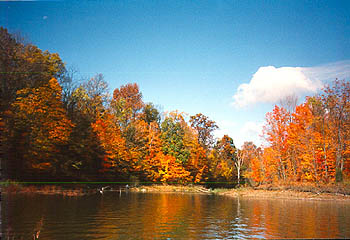 Alum Creek's large reservoir and gently rolling span of fields and woodlands provides a hub of recreational activity just minutes from Ohio's capital city. Quiet coves nestled among shale cliffs await the solitary fisherman in the park's northern reaches while sunseekers mingle with thousands on Ohio's largest inland beach.
Alum Creek Lake was built by the U.S. Army Corps of Engineers to reduce the flood hazard along Alum and Big Walnut Creeks, the Scioto River, and along the Ohio River. With 3,387 acres of fishing water and 46 miles of shoreline, other benefits of the lake project are recreation, fish and wildlife management, and downstream water quality.
Alum Creek Lake offers unlimited horsepower and various water related activities such as; fishing, sailing, water skiing, pleasure boating and boater swim/camp areas. Alum Creek Lake is one the best fishing lakes in the state. A wide variety of fish including white bass, rock bass, small-and large-mouth bass, bluegill, white and black crappie, green sunfish, longeared sunfish, pumpkinseed sunfish, channel catfish and walleye thrive in the lake.
The majority of the park is leased to the Ohio Department of Natural Resources to operate as a State Park. The Corps of Engineers manages and operates the Visitor Center and the Below Dam Recreation Area, as well as the dam. The Corps of Engineers Visitor Center and Office is located on Lewis Center Road between the beach and the dam. The visitor center is open year round. Facilities and services include exhibits, information, maps, brochures, a movie theater, and restrooms. A variety of guided walks, talks, and other programs are offered free of charge by the U.S. Army Corps of Engineers.
Lake Information
Location: 5 mi E on Lewis Center Rd off US 23
Contact: 740-548-6151