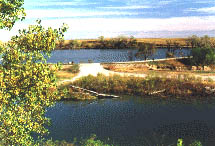 Antelope Lake, on the State Historical List, was built by the WPA in the 1930's, and features several native stone structures. The 80 acre lake is great for recreation and fishing with boat ramps, camping and picnic areas. The lake is well known for good fishing.
LINK TO STATE INFO: https://ksoutdoors.com/Fishing/Where-to-Fish-in-Kansas/Fishing-Locations-Public-Waters/Northwest-Region/Graham-County-Antelope-Lake
KIDS FISHING INFORMATION: This lake has a lot of shore area that contains bluegill and some bass. The road encircles the lake making it easier to find rocks or weeds along the shore. I would suggest worms with a bobber 18 inches above the worms - fished close to shore near rocky or weeded areas. Also, a fly tied at the end of 8 or 6 pound line with a bobber 18 to 24 inches above it. When using a fly cast at an angle away from your position fairly close to shore and reel the fly back at a slower speed. If there are bluegill in the area they will usually take the fly. Using a fly can not only catch fish but help in becoming better at casting. For the grownups --------- I have not fished this lake but have had several people tell me it produces good numbers of sizable bass.
LOCATION: 7 TO 10 minutes from a small community called Morland. Around 20 minutes from Hill City, Kansas. A city of around 1,400. www.google.com/maps/place/Antelope+Lake/@39.3623116,-100.1761238,12z/data=!4m5!3m4!1s0x87a03acd6b02ccf3:0x2733c0aafdb9249c!8m2!3d39.3742674!4d-100.112218
WEATHER: https://weather.com/weather/tenday/l/Hill+City+KS+67642:4:US
CAMPING: All camping areas are primitive.
LODGING: = www.discovergrahamcountyks.com/Lodging.aspx
RESTAURANTS: www.discovergrahamcountyks.com/BusinessDirectory/tabid/99/oc/22/Restaurants-Catering.aspx
Lake Information
Location: Graham County KS
Contact: 785-421-3453