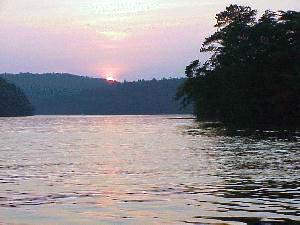 The Black Warrior & Tombigbee Lakes (BW&T) consist of six lakes - Demopolis, Coffeeville, Warrior, Oliver, Holt and Bankhead. The lakes vary in size from the largest, Demopolis Lake with a surface area of 10,000 acres, to the smallest, Oliver Lake with a surface area of 800 acres.
Bankhead Lake is the most northern project on the Black Warrior-Tombigbee river system. The lake's clear waters stretch for 65 miles and encompass 9,100 surface acres. This includes the Locust and Mulberry forks to the head of navigation.
The shoreline of Bankhead Lake is privately owned. Because of this, there is extensive shoreline developement. A major portion of this development is privately owned homes. There are several marinas and fish camps along the lake that provide boat docking and storage, fueling facilities, boat repairs, launching ramps, food and supplies. The Corps of Engineers does not have developed recreation areas on Bankhead Lake.
Lake Information
Location: 15 mi W of Birmingham
Contact: 334-289-3540