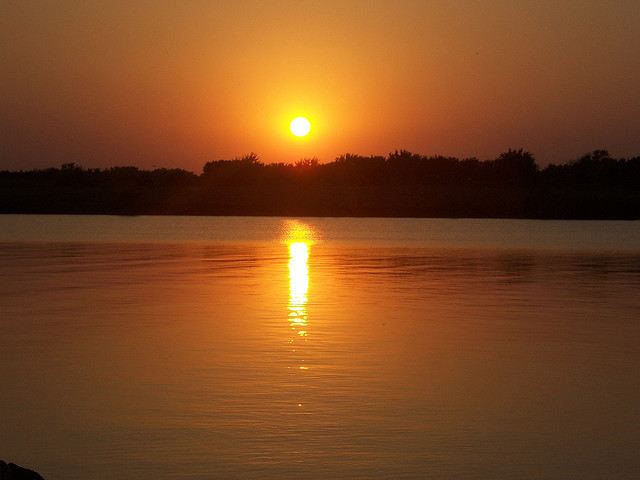 This 535-Acre reservoir serves as a flood control structure and water supply for the City of Holton and rural water district No. 3. As you enjoy it's recreational facilities, please help to protect, preserve and enhance the water quality.
At Banner Creek Resevoir there is a wide variety of things to do. Some of the most popular are Fishing and Water Skiing.
You can also have a Recreational Vehicle and a bike trail to ride on too. You can boat, swim, picnic, and primitive camp at Banner Creek. You can also hunt during hunting season.
--------- ((((Good information on fishing at the lake)))) ----------
--------Bait and tackle - 1st Street Bait ---------09 New Jersey Ave ---------(785) 640-2987
"You must have permit to do these activities."
Primitive Picnicking activities are allowed in certain areas including near fishing piers, the swimming beach, boat ramps, and parking areas. A number of picnic tables have been placed on the north side of the reservoir. Picnickers are strongly encouraged to pick up their own trash and place it in nearby trash cans. THANK YOU!
Season passes are available at the Jackson County Courthouse
KIDS FISHING AREAS: This lake has plenty of rocky areas that will hold bluegill and like species. Some of the coves have weed beds that run adjacent to the shore. These are a good bet at holding some fish. I would recommend worms on a small hook with bobber 18 inches above. Fish adjacent to banks and weedlines. Cast down the side of these and let set for a minute. Then reel back in slowly. This typically will help you catch fish. They may be on the small side but what is important with kids is that they catch something instead of just sitting till they lose interest. Another suggestion would be to tie a fly on where you would usually have your worm. Again, put a small bobber 18 to 24 inches above the fly. This will give some weight and help keep fly from snagging. Reel in slowly --- sometimes reel fast enough that you see a "v" behind the bobber where the fly is. This at times triggers strikes when all else fails. Use either 8 -6 or 4 pound test line. My suggestion would be 6lb. Gives a bit of strength but still light enough that it can not be seen easily by fish.
FISHING REPORT - / - **OTHER GOOD INFORMATION: https://ksoutdoors.com/Fishing/Where-to-Fish-in-Kansas/Fishing-Locations-Public-Waters/Northeast-Region/Banner-Creek-Jackson-County
BANNER CREEK MAP: www.bannerreservoir.com/wp-content/uploads/2016/06/2016-Banner-Map.pdf
LOCATION: www.google.com/maps/place/Banner+Creek+Reservoir/@39.4582102,-95.7846486,15z/data=!4m5!3m4!1s0x0:0xaee5dd1ab93aee13!8m2!3d39.4632796!4d-95.7876527
CAMPING: There are 34 RV spaces with individual electric and water hook-ups. Picnic tables and grills are available in some areas. A shelter house, bathhouse, playground, sand volleyball court and horseshoe pit are also located within the RV area.
Drinking Water: Dump Stations: Electric And Water: Pets Allowed: Playgrounds: Primitive Campsites: Restrooms:yes Showers: Swimming Beach:
LODGING: www.exploreholton.com/visiting/lodging#39.4631394/-95.7816660/11/cats/105/hotspot/170
RESTAURANTS: www.exploreholton.com/visiting/dining
Lake Information
Fees: Car entry fee: $2 Boat fee:$2 Non Powered boat-FREE Jetski/watercraft:$6
Location: 2 mi. east of Holton,KS on Hiway 16
Contact: 785-364-3963