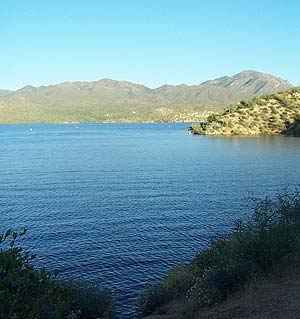 Bartlett Dam and Lake is the closest lake to the Phoenix area on the Verde River. The lake has a boatable surface area of 2,815 acres fed by the pristine waters of the Verde River which Indians of this valley spoke descriptively in their legends of the river's "sweet waters". Upper Bartlett Lake, Rattlesnake and South Cove recreation sites provide areas for camping with trailers, picnicking, fishing and boating and are open year-round. Trailers longer than 16 feet are not recommended. The Jojoba Boating Site provides a paved launching ramp, except during low water levels. A marina facility provides a variety of services. Fishing at Bartlett can produce largemouth and smallmouth bass, bluegill, catfish and crappie.
Outdoor enthusiasts frequent Bartlett Lake for a variety of recreational opportunities, including shoreline camping in Arizona's natural desert terrain. While in this part of the Tonto National Forest, visitors may see mule deer, bald eagles, javelina, coyotes, and many indigenous desert plants, including the majestic saguaro, mesquite trees and blooming ocotillo.
The newly engineered, fully paved, scenic Bartlett Lake Road combined with the expanding Phoenix freeway system offers easy access from the entire Valley of the Sun. Tonto National Forest campground improvements, handicap accessibility, and safety features provide for safe, enjoyable recreation including hiking, boating, water skiing and fishing.
Boating, water skiing and jet skiing are popular at Bartlett Lake. It offers the best of both worlds: gently sloping beaches on the west side and mountains that break the wind on the east.
Lake Information
Location: 22 Miles E of Carefree on SR 223
Contact: 480-595-3300