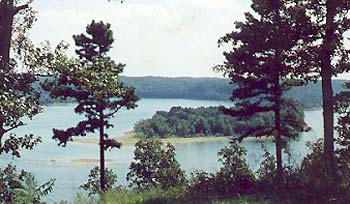 Beaver Lake, nestled high in the Northwest Arkansas' Ozark Mountains has 487 miles of shoreline and covers nearly 30,000 surface acres. Fed by the White River, the lake is Arkansas' premier recreational and sporting lake.
The lake is administered by the U.S. Army Corps of Engineers. The Corps maintains twelve year-round parks. Each of these have privately-owned & operated marina facilities, which provide boat-launching and docking facilities, fuel, groceries, fishing supplies, boat and equipment rental, as well as other services. Additionally, there are nine developed parks with modern campsites offering electricity, drinking water, shower and restroom facilities, swimming beaches, picnic sites for groups and individuals and miles of hiking trails through the spectacular Ozark mountains.
The lake is stocked with millions of fingerling game fish each year by the Arkansas Game and Fish Commission. Rainbow and German brown trout are abundant on the upper White River below Beaver Dam. Hiding under the clear waters of Beaver Lake itself are small- and largemouth bass, crappie, bream, white and striper bass, channel and spoonbill catfish. The forests around Beaver Lake abound with plant and wildlife.
Pleasure boaters can enjoy the limestone bluffs that line the lake as they travel along its clean, clear waters. The lake is also popular for swimming, water skiing and scuba diving. These are just a few of the recreational opportunities available at or near Beaver Lake.
Lake Information
Location: US 62 E of Rogers
Contact: 479-636-1210