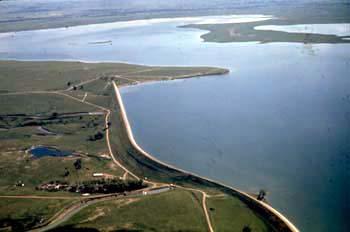 Belle Fourche Dam and reservoir are features of the Belle Fourche Project. The Bureau of Reclamation reservoir is located on Owl Creek, about 8 miles east of Belle Fourche, South Dakota. The name means "Beautiful Forks" in French and refers to the confluence of the Redwater and Belle Fourche Rivers.
The 8,000-acre Belle Fourche Reservoir was created in 1911, when Orman Dam ( now Belle Fourche Dam) was constructed to store water for agricultural use. At the time of its completion, Orman Dam was the largest earthen dam in the world. In 1989, Belle Fourche Dam was designated a National Historic Civil Engineering Landmark. Recreational activiies include fishing for walleye, catfish, and white bass, hunting, boating, camping, picnicking, swimming, and historical sites. Rocky Point is the newest park in the South Dakota state park system, and opened in 2006.
The primary historic site is Belle Fourche Dam with an interpretive area on the dam's south side containing exhibits and displays about the dam's construction, and a former Civilian Conservation Corps camp located near the dam that later served as a World War II Prisoner of War camp.
Lake Information
Location: 8 mi E of Belle Fourche, SD on US 212
Contact: 605-773-3391