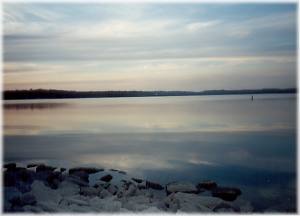 Big Hill Lake has a surface area of 1,240 acres. Due to stocking, fish shelters and leaving large areas of timber and other vegetation standing, Big Hill has developed into one of the most productive and popular fishing spots in the area.
Principal species of sport fish include largemouth bass, crappie, channel and flathead catfish, bluegill, walleye and smallmouth bass.
With Big Hill being one of the clearest lakes in Kansas, our alcohol-free sand-covered beach has become a popular spot for cooling off from the summer heat.
FISHING REPORT VIA KS. WILDLIFE AND PARKS - http://ksoutdoors.com/Fishing/Where-to-Fish-in-Kansas/Fishing-Locations-Public-Waters/Southeast-Region/Big-Hill-Reservoir
Come and visit one of the clearest lakes in Kansas. Big Hill Lake is considered a trophy fishing lake and as a great place to take the family.
There are three campgrounds, three equestrian trail heads, and four day use areas for the public to enjoy operated by the Corps of Engineers. Camping, picnicking, horseback riding, hiking, swimming, fishing, and other outdoor activities are just a few that can be enjoyed at Big Hill Lake. Food, bait, tackle, and medical facilities are available near the lake.
LOCATION: www.google.com/maps/place/Big+Hill+Lake/@37.3030488,-95.4901285,13z/data=!3m1!4b1!4m5!3m4!1s0x87b8230b1bec152f:0x57e1aaf98e051e30!8m2!3d37.2931927!4d-95.4581235
CAMPING: -- SCROLL DOWN -- www.recreation.gov/camping/gateways/546
LODGING: -Cherryville site info - scroll down a bit. www.cherryvaleusa.com/business/area_businesses/index.php#hotels
RESTAURANTS: Cherryville site -- scroll down to restaurants. www.cherryvaleusa.com/business/area_businesses/index.php#hotels
BAIT: - The place to get live bait is Misfit Motors. Misfit Motors 314 S. Liberty 414-5015
HUNTING: Almost all project lands are open to public hunting except the parks or around the dam and control structures. Principal species hunted are white-tailed deer, turkey, and squirrel. A hunting map and regulations are available at the project office. State laws and regulations also apply on public hunting areas.
Big Hill Lake Project Office 19065 Cherryvale Pkwy. Cherryvale, KS 67335
Phone: 620-336-2741
========A LOT MORE INFORMATION AT: ======== www.swt.usace.army.mil/Locations/Tulsa-District-Lakes/Kansas/Big-Hill-Lake/
Lake Information
Fees: Park Permit Required
Location: 5 miles E of Cherryvale on Rd 19000
Contact: 620-328-2050